Holiday Family Portraits
Tis The Season To Be Jolly
And fah-lah-lah-lah-low these tips for taking holiday family portraits. Most point and shoot digital cameras or cell phones, with ever improving camera features, are perfect to keep handy. To create and capture some great moments, not just the "oh, look, here you are in the photo" type shots, you should be prepared.
Charge your battery and make sure you have sufficient space on your memory card. (Tip: If giving a camera for a gift, open it up, keep the receipt, charge the battery and add a larger memory card so your recipient can enjoy their gift right out of the wrapping paper!)
Most cameras have a "continuous shot" or multiple shot feature, take a second to look it up. You will be able to hold down the shutter and take rapid fire photos that are perfect when a child rips into packages and gifts. Start as soon as you hear paper tear. If you have time to say "oh, look, that would make a great shot," you will have missed it. Try some shots without holding the camera up to your face when it distracts your subject and fire away with the shutter held down and the camera will take several pictures for you to review later.
Try out your "portrait" setting if available. This is a great feature for softening your subject's face especially when the holidays and winter have taken a bit of a toll on skin tone.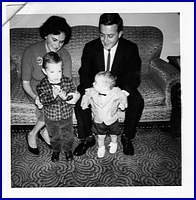 Do some test shots BEFORE your little subjects are in place. It might look like you have lost it in front of your relatives but try it and work with the lighting and improve it if you need to. When the holiday family portrait time arrives you will have less than 5 minutes of cooperation and this tip will pay dividends.
Get your photography props or toys in place and your most animated relative over your shoulder to grab the attention of multiple subjects. Thanks to digital technology, it won't take three rolls of film to finally get two or more siblings to look toward you at the same time when you take holiday family portraits. Pick the best toy and hide the rest since any others discarded to the side will gather some undesired attention.
Make It Fun To Smile
For The Camera
Bundle your kid or kids up, take them outside, have a good time, hit the local park, have them play on a jungle gym, swing on swings, wander through a Christmas tree farm, or have them draw Christmas trees and snow-people with colored chalk on the sidewalk or play in the snow. (Tip: Use your flash outdoors and see if your camera has a "snow" or "beach" setting that will reduce the camera's tendency to want to darken your subject's faces due to the bright background and also reduce shading the snow in blue tones.)
Get your guests, relatives and children to interact with their surroundings. Hand a child an ornament to hang, pass out cookies to the adults, or recruit Grandpa to assist in hanging up a Christmas stocking in the right spot for Santa.
Coordinate but don't match clothing. The color will dominate the photo and your subjects will be secondary. (It's like trying to pay attention to the Von Trapp Family kid's faces in the Sound of Music when they were all dressed in green curtains!) Avoid any patterns and loud plaids that also are too distracting.
Simplify your backgrounds. TV sets and chair arms and dining room legs in the background definitely will add more to your photos than what you need in holiday family portraits and they have less chances of being keepers when they are in them.
Get closer than you think. If you think you are close enough, get a step closer or zoom in more. Fill the frame with eyes and smiles and let the holly decorated frame that you will put the photo in add the finishing flare.
Holiday Scrapbook Tips
Holiday family portraits can be intermixed with many other seasonal shots.
Grab a shot of a snow covered branch outside on your property. - Choose some features in your house that you took the time to decorate. A wreath on the door, the mistletoe in the hallway, and the Christmas card display on the wall.
Look for reflections off windows or puddles. Look for interesting shadows or holiday lighting.
Take a picture of your child while they are sleeping in bed or napping on the couch.
(Visions of sugar plums dancing in their heads.)
Take pictures of them in the line waiting for Santa with their siblings or friends to add to and display with the professional shot. Be sure to get on one knee, being on their level always is best.
Use your "macro" setting and zoom in really close to a special ornament on your tree. The one you place on the top is always a good place to start.
Pick out a favorite toy of theirs for some photos and then take a photo of it by itself. If it ever disappears in storage or can't make the cut in the college dorm room move, your adult child will love that you included it as part of their cherished holiday family portraits.