Santa Phobia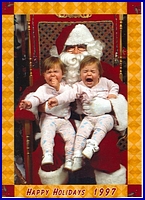 Holiday Photo Ops
Santa phobia, is it true anxiety? Does it have lasting effects? Just how traumatic is the situation? Is it just one more worry for Mom at the mall? Let's look into the problem that is very common when taking "photos with Santa" and discuss how to make the experience a good one.
Some kids will seek out Santa from the time you get out of your car in the parking lot if they know you have planned the trip. Take note of their anxiety or enthusiasm level and monitor it a bit as you go along.
(Special thanks to Julia and Amanda for this gem!)
Photo Fear Factors
No matter how much prep conversation you have with your child, you still may get the inevitable "freeze" up as the moment arrives. There are many kids that get overwhelmed and break down into fits and tantrums. Take the following into consideration:
Toddlers do not want to be out of sight of their parent. (One view is to face them toward you and stay in close view all the way up to Santa's lap.)
Beards can be scary and awkward. Talk to him or her about it. What do they think?
White gloves. (Do they remind them of Doctors or Nurses and yucky medicine?)
Seeing other kids cry. (Peer pressure is a human trait at any age.)
Noisy mall filled with crowds of bustling people might have taken a toll by the time you have arrived. (Go early and avoid the crush.)
Let The Pros Handle It
Today's mall or shopping center Santa operation can be very high tech. Many will help you avoid the long lines by texting you when your turn is near and allowing you to get some shopping done.
Many have digital equipment for instant review and printing packages while you wait. They are usually experts in using photography props , sleigh bells and honking horns to help your child "watch the birdie."
Rest up and find a place to discuss with your child how it will go down. "When we get up there, we are going to sit down on his lap and tell him what you want for Christmas. He has a beard and a booming voice and so on."
Consider going up first and asking your child if they would like to take a turn. Engage them slowly to the process as best as you can. Depending on his or her curiosity level, personality and preliminary reactions, your child will help you make the decision whether to move forward. Do not plow ahead or say "what is your problem?" and "it's just Santa, you have been talking about him all week."
The best scenario is for your child to make it their own idea to go up and sit on Santa's lap. They are not as afraid as when a parent is directing it.
Siblings of course can help set the tone. Help direct their compassion for their little brother or sister and not compound the problem with teasing or added stress.
Finally, if Santa Phobia rears its head, pull back and regroup. Give the situation some time, walk around the mall a bit. See Santa from afar, maybe they will ask you for a second chance. Making it back to the parking lot and your car with a great photo can now be checked off of your list.