Holiday Photo Tantrums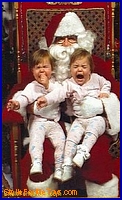 Let's attempt to focus on holiday photo tantrums and lend some insight to why they might happen. Avoiding them whether you will be away from your home in a studio setting, inviting a professional photographer over to your home or simply trying to capture some natural and fun expressions yourself is our goal.
However, you may get a more memorable "screen saver" by capturing some discomfort. (Special thanks to Amanda and Julia for this one, it's a classic!)
Let's Identify The Problem
Are they tired or hungry? Schedule a meeting with the photographer at a time period when they are usually rested and full of food and at their "peak" times and not at times of the day when you know meltdowns are more prevalent.
Are they confused or afraid of where they are going? Let them know they are meeting a "friend" that you want them to meet and not that they are getting a photo taken. (They might not comprehend that yet and have some anxiety.)
Dress them in comfortable clothes, and bring along the nicer set so that you can switch out later when all is going well. These situations are out of the ordinary and need to be talked through more completely with your child.
Are you are rushing too fast for them? Try to slow down your pace since they will probably have picked up on your hectic attempts to get to the scheduled appointment and may be feeling uneasy. Make time to see if they understand what is going to go down since many holiday photo tantrums are meltdowns that occur out of a frustration and lack of an understanding of what's going on around them. Give them credit for a very natural feeling that an adult might have in the same situation.
Is the photographer a stranger to them? Most likely yes, so create a rapport or start a conversation with the photographer. "Oh, honey, tell the nice photographer about your new kitty, he or she loves kitties." Have the photographer show some of their equipment (if appropriate). Have them play around with the photography props and have them get used to the lighting, benches and backgrounds. Prompt your child to tell the photographer something that you know they have memorized like their favorite cartoon's name and best buddies so they will be eager to share and beam with pride when they can recall things for them. Follow your photographer's lead and go with their flow.
Take the pressure off. Is everyone looming down at them? Try to make sure everyone in the room is down at the child's level. Crouch down and sit down as an eager audience and have the photographer take photos while your child rambles on with stories.
Oh No!
Their Bottom Lip Is Beginning To Quiver!
If all of your preparations didn't work, it's okay to take a step back. Remove your child from the room and/or hold them for a minute. An unfamiliar studio and all that attention that they were now getting is overwhelming and intimidating even to older kids. Remember your yearbook or prom photo ops? (And who is ever happy with their driver's license or passport photo?)
If the spectrum between reasoning and scolding was not effective, go ahead and ask if the photographer can wait the tantrum out for a moment or have you return after their next appointment slot. (A little awareness and courtesy will go a long way.) If you get the glance at the clock look, it is time to start to distract your child. Point with huge excitement at something outside of the window or at a toy across the room. Special toys can be brought out with the right timing and may save the day. Keep a favorite in reserve to make it fun to smile for the camera or get a SmileForMeToys™Birdie .

Give your child some choices. "Would you rather play with the large ball or the teddy bear?" Anything that will divert their attention from what's upsetting to him or her may elicit some smiles again.
Sit them in a safe place, give them permission to play with the toys and props and ignore them a bit. Tell them that you are going to talk with the photographer and then use the time to discuss prior "shots" or pricing packages, you have to get that discussion out of the way in any case. Return to the task when the photo tantrum storm blows over. (Speaking of storming, if it isn't, ask the photographer for any outdoor options for a literal change of scenery.)
Praise good behavior and remain calm and positive. The best news is that photo shoot tantrums are nothing that most professional photographers haven't seen. As your child continues to develop and improves the ability to communicate and make his or her wishes known and is more comfortable in new surroundings, the tantrums will typically diminish.
Go out and invest in a photo shoot with a pro for some lasting life time memories and lower the chances of holiday photo tantrums.


Return to Easy Photography Tips
Copyright 2011 Carl Olson