Game Night
Is a Great Place to Take SnapShotz
A well planned Game Night will keep everyone laughing and having fun. Let's see how the latest board game can help capture it in photos!
The SnapShotz Photography board game uses any camera (smart phone or tablet) with your favorite Photo Booth props (not included) and is a seriously fun way to take photos.
Photos are the most treasured of our possessions.  They are what we look to save when all else is lost.  Board Games and game nights have been time honored ways of creating memories with those we love and care about. SnapShotz offers a way to combine them both!
For every family that photo day is a chore in getting everyone to look interested and happy to be together for a good photo.  The game is designed to get all ages and personalities from the "selfie addicted" tween to the normally shy and "photo allergic" older relatives to take photos together.  
The board is a great playing field to interact and have the perfect excuse to loosen up, laugh and have fun taking photos.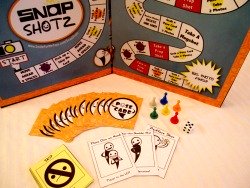 The board is simple yet motivates and stirs up some fun in taking photos in a game format. Our board game doesn't have to keep pace with new camera technology with smart phones and tablets because ANY camera will work with it.  Raid your closets, attics and party & costume stores and try out your new smart phone on it. 
" the SnapShotz game bridges the past and the future, it looks to be the last of the great board games."
SnapShotz customer
Goals for a Successful Game Night
The game of SnapShotz can be your new "go to" game on game night. Simple and easy with almost no starting instructions, everyone gets to adapt and his or her own personality and creativity to the game.
Using your favorite photo booth props (not included), and any camera (smart phone, tablet or iPhone), "PoseCards" are cards that get randomly drawn by players that direct portrait poses.  Some are silly and trendy while some are serious and classic.  The props add to the fun atmosphere and everyone gets caught up in the laughter and you end up with some very special photos when it's over.
No old or stale trivia cards that some players have either read before or since they have a PhD, get a special advantage over others.
No judging or acting out for the rest of the group.  The spotlight is shared by everyone around the table in a common purpose.
Your guests can rotate in and change it up.  People can join or leave easily without stopping the progress of the game.
No real winners or losers with bruised egos or heated competition at the tables.   You are never having to guess whether the cards are offensive or appropriate for your guests.
Like the reluctant child that gets dragged into a birthday party but then afterward doesn't want to leave, the SnapShotz Photography Board Game becomes something you will be glad you took the time to try out.
So plan to introduce the game on your next game night and put taking photos on "auto-pilot".   It lets players act goofy, make silly faces and put on funny props but through out the game they will take some serious photos without really thinking about it because the game "asked it" of them.
Your game night just became a more memorable night because of playing a game that matters.
Learn more about the SnapShotz Photography Board Game on the SnapShotz Game button and find ordering information on the Add to Cart button.  
We would love to have you share your photos and game variations at the link below.