Watch The Birdie!
(Since 1879)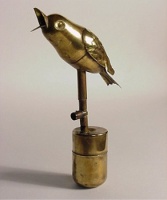 When did the phrase "watch the birdie" begin? As with all time honored traditions, a phrase can grow over the years and be picked up by subsequent generations until it cycles out toward eventual extinction. Is this birdie on the verge of becoming extinct? It is definitely on the Endangered Species List, so ... when did the phrase first start being used? And why?
The earliest bird sightings on record are as early as July of 1879.
An issue of Photographic News contained an article about a man named C.W. Davis who had been training a live canary to sing on his direction to relax a subject who in those days would have had to remain still in a fixed position for many minutes while the camera took the photo.
Entrepreneurs must have been on top of the problem because the article goes on to say that "soon photographers were able to buy a mechanical bird that chirped when a pneumatic bulb was squeezed and the phrase watch the birdie became a command at portrait sessions."
Patent number 1,445,332 in (1923) belongs to Oscar Schwarzkopf labeled as a toy bird songster. A brass Victory Canary Songster, also appears to be patented around the same time and The Risdon Manufacturing Company of Naugatuck, Connecticut produced their versions for over 25 years like the one shown here on this page.
(Who knows how many smiles this little guy caught and how many photos of great grandparents as children he was a part of?)
As cameras became more portable, no more bulky tripods and hoods, and the processes more stable and consistent, the brass birdies started their decline. New accessories started coming into play to help photographers with their photo taking sessions.

Benches, props , backdrops and new flash techniques started to help drive this new and evolving industry. While the birdies themselves were down, the phrase kept getting some help.
Hollywood Gets Into The Act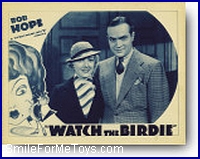 At least seven films dating back to the 1920's were entitled "Watch The Birdie" that all were centered around the ever emerging field of photography.
In 1928, a Universal Pictures short film in the Buster Brown Series was called "Watch the Birdie" and by 1935, Bob Hope, Nell O'Day and Arline Dinitz starred in an 18 minute short film called "Watch the Birdie" which was shown as a warm up to the Fred Astaire film "Top Hat" which had a wide release in theaters at the time and are now found paired together in DVD form.
"Hellzapoppin'" was a Broadway show that ran from 1938-1941 with Ole Olsen and Chic Johnson who later starred in the 1941 film version. One of the lesser documented songs in the movie, "Watch the Birdie" was sung by Martha Raye who's career of service to our country secures her place as a patriotic icon in our nation's history. The song was recorded by many artists in the swing era and later by Lisa Stansfield with the late Clarence Clemmons of E Street fame.
We feature a snippet from one of the more popular versions of the Don Raye and Gene DePaul song as sung by the incomparable Anita O'Day and the Gene Krupa Orchestra with Roy Eldridge from a 1941 recording session on our Watch the Birdie cartoon. (It has a catchy tune hook that we think will help get the phrase "jumpin' again!")
Click here to Watch the Birdie on our home page. (It is a fun, 42 second cartoon where the birdie rescues a Dad who is confronted with a common problem most of us have faced at some point when taking family photos, those distracted young ones.)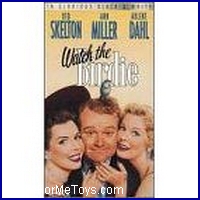 In 1950, Red Skelton, Ann Miller and Arlene Dahl teamed up for "Watch the Birdie" where Red played a camera store owner and the father and grandfather of the character in separate roles as an early precursor to the type of multiple role movies Eddie Murphy has made famous.





In 1986, Anthony Edwards as "Goose" in Top Gun grabs his polaroid camera after "Maverick" had kept up foreign relations with the MiG, and says "watch the birdie". Timothy Dalton mutters it as James Bond in "Living Daylights" and a film phrase search site documents many other films up to present day where the screen writer has slipped the phrase into their movies when the scene contained a camera.
Popular Cartoons Add To The Lore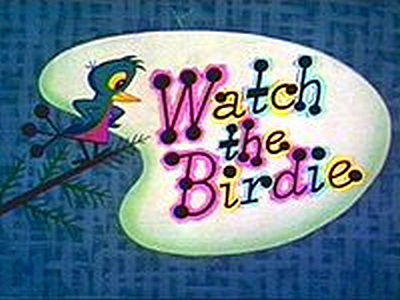 Walt Disney's "Lady and the Tramp" of 1955 contains another song titled "Watch the Birdie" toward the end of the movie and has be re-released very recently. In 1958, Walter Lantz and Woody Woodpecker had a six minute feature where "Woody" says it back to the camera man at one point and nabbed the title of the cartoon short.
Is It Bye, Bye, Birdie?
So... will the phrase fade away for good? Birdie may be on life support but we think he can be a source of life support! We believe in "facial warming" on a global scale. Many cultures throughout the world have similar translations for "watch the birdie" and those of us connecting to others around the Smile For Me Toys' community think it is worth bringing back.
Helping to grab the attention of infants and toddlers is just one part of helping photographers get the best out of their subject at any age when their smiles will be captured and treasured for future generations!