Birdie Owner Tips
Puting Your Birdie To Work
Here are some Birdie Owner tips to help you commit to using the birdie on your camera.
Most of us are a bit apprehensive and hesitant to break out of our normal comfort zone when it comes to taking photos. We know we have a photographic moment in front of us with family and friends but tend to sheepishly pull out our camera and quickly snap a picture from a distance and usually when our subjects are hardly paying attention. (Thinking to ourselves, "there, I took that photo, that's done.")
What good is a photo when years later you have to say, "I think that is uncle Dale in the photo." Make it count when your camera is out. Pretend you are a pro for a minute or two and gather the flock when you can. (Birdies love flocks.)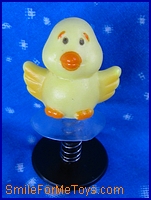 Grab some attention - Announce your intention. "Hey everyone, let me grab a few photos before the food arrives," or something like "Michelle, our hostess would love a few photos, do you mind?"
Show a birdie around to your little ones and build interest and curiosity. Say a quick "where's the birdie going?" and pull it back to your camera. The adults get it and the child will too!
"This little birdie flew out from California! It is based on the phrase "watch the birdie" and goes as far back as 1879 in the early days of cameras." (Look at your camera phone or digital camera and think of how far we've come along in photography. It is a great conversation topic as they tell you about their latest tablet or iphone capabilities.)
Great Photos Are Priceless
People's lives boil down to a photography board or a slide show-like presentation. You owe it to loved ones to zoom in close, get their attention, pull in a friend or family member and say "watch the birdie," and capture some genuine smiles and laughter.
Teens today aren't hesitant or so uptight with taking photos so they do not need birdie owner tips but hopefully these few thoughts will help empower you to use the birdie or at least some other photo prop to demonstrate the importance you are placing on getting some great photos.
Build trust and let friends and family have confidence in your ability to bring out the best in them in photos.
Use a flash to flatter. Get your camera to flash even in daylight for portraits. The back ground lighting shuts the camera down and faces get too dark but the average camera user doesn't think about it until it's too late and happy, outside faces are fun to capture.
Prioritize your posts. Don't just inundate your social feeds with any photo and all of your photos. Is it frame worthy? Will your subjects love it?
One more tip is to trying using your camera's "multiple" or "continous" shot feature. It's the one that lets you snap consecutive photos in a rapid fire succession. (As long as you have the photo set up, give yourself some more chances of getting a "keeper.")
We hope these birdie owner tips have helped to motivate and encourage you to make it fun to smile for the camera whether you are a birdie owner or not.
And those of us at SmileForMeToys aplaud your effort since it is a person like you that helps to make this world a better place one smile at a time.