SNAPSHOTZ
Photography Board Game®
Make Memories With SnapShotz™
People everywhere are finding out that memories are made with the SnapShotz Photography Board Game®.   By making a game of taking photos around a table with family, friends, or relatives, this board game has a way of capturing cherished photos of those we love and care about.
We find ourselves taking a ton of photos but never seem to get truly good ones!  Kids duck out and move too quickly, and some older relatives can't be bothered!  
Many times siblings are disconnected, friends are too proud or bashful to get in close and mothers have come to realize that they are usually never in any of their kid's photos!  Opportunities keep slipping away.
This board game is a fun way to solve the problem for everyone!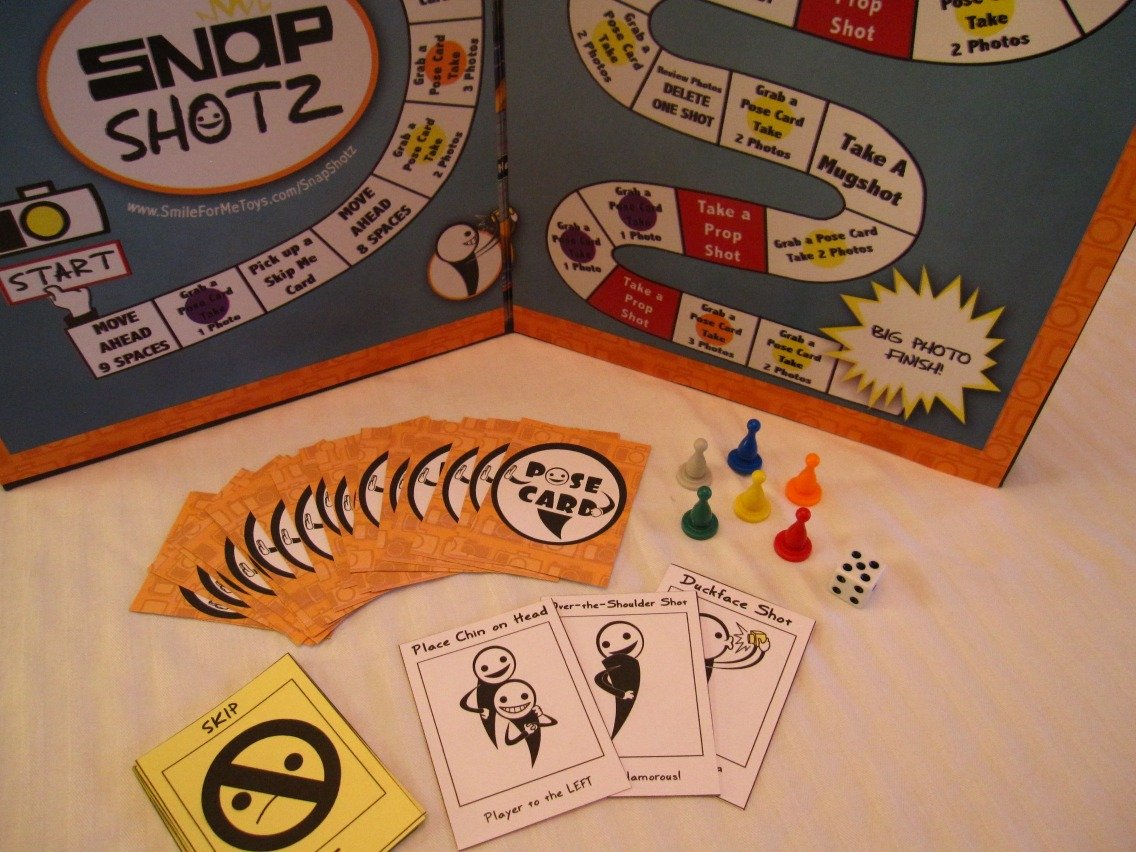 The SnapShotz Photography
Board Game®
Is a Game That Matters!
Photos and Portraits are the most treasured of of our possessions. They are what we look to save when all else is lost and a board game has provided a time honored atmosphere with its ability to engage and draw in all ages.  Both are activities we care so much about.  The SnapShotz Photography Board Game® puts photos and game time together.
Due to declining board game popularity, shrinking family down time and kids disconnecting with electronic apps and gadgets we all need one last great game.
Simple and easy with almost NO STARTING INSTRUCTIONS kids practically recruit other family members to play.  Break out those photo booth props once more.  No stuffy photo session here, the game puts taking photos on "auto-pilot" as everyone takes turns rolling a die and landing on squares that direct the fun on the way to the finish line.
Friends and family will be able to take photos together without thinking about it too hard.   Most people do not like to invade other people's space. For many many families, a camera or phone pulled out in a birthday party or family gathering is usually a break in the action and gets a forced smile out of a child or annoyed look from an elder.  The SnapShotz Photography Board Game® breaks down the barriers for getting the photos that your family may just have been looking for.
"Care to Play SnapShotz?"
Who would be on YOUR list to ask to play?   No worries because older and more camera shy members of the family get drawn into the game as the generation gap gets narrowed for a moment.   Super easy to play, yet full of creativity and depth, use your Photography props while the game's "PoseCards" and squares call the shots. Designed to engage kids to be creative, dress up, act goofy and make silly faces, but, when they least expect it, the game sneaks in some close up portrait shots maybe worthy of framing!  It is a seriously fun way to take photos!
(Think of a photo session where there is no guessing, no anxiety, no pressure and no bribing anyone to cooperate. The game does it for you!)
Parties, Reunions and Game Nights are Great Places to Take SnapShotz!


PoseCards are drawn and are designed to be silly or serious by combining classic photos with some trendy and fresh selfies that we see today in social media and shared photo sites.
A perfect time for Grandma or mom to break out the digital camera she finally learned how to use (or wants to learn more with hand's on help during the game).  
People that take a ton of photos will love the structure and guidance that the game provides.  Other people that are "photo allergic" or camera shy may get the excuse they have been secretly looking for by playing the game.  The hardest part is getting them to sit down together at a table but watch how everyone warms up and next thing you know the second hardest thing will be how to get them to stop playing!
The fun doesn't have to stop there.
Kids or others may play the board game with countless photo editing apps and effects like FaceTune, Camera 360, Flickr, Google Photos, and Snapseed for examples.
"It is a paradox that those closest to us are sometimes the ones we fail to photograph often enough until it is too late."   Unknown
They all grow up too fast, we don't get together enough,  but put out the game with your favorite Photo Props and watch as everyone warms up and yells out "let's play again".  Gather up some old costumes or Grandad's hat, create some themes like Pirates, Fourth of July or Christmas props. The list of holidays and themes is unlimited!  
So gather around, put the board on the table and place the deck of cards on it, make your photo props handy, choose a camera and start taking turns rolling the die!   Make memories with SnapShotz™ and your photo album will love you for it!
For 3 to 6 players or play with teams!!