Better Baby Pictures
How does a professional photographer take better baby pictures? What do they look out for? How do they grab a little one's attention? Do they have a secret?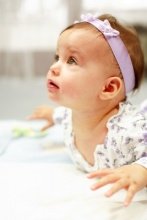 Professional photographers are prepared! It is as simple as that. Where is the child most comfortable? Depending on their stage of growth, can you place them in a fun and interesting (albiet trendy) prop like a basket or box? Are they rested and ready to show off their newest expression? Catching some special shots while they are sleeping works also.
In either case, you can bet the photographer will be ZOOMING IN to his or her tiny features. It is a repeated theme on our site but, "fill the frame" with close-ups on their eyes, nose and grin. Get in closer to your subject, more than you are probably comfortable with when taking photos. (Most of us still do not easily use photo cropping tools or take the time to edit our photos, so take better baby pictures at the start.)
A professional photographer will put a high priority on LIGHTING. So watch your flash, use natural light as much as possible and experiment to what will put your baby in their best light. (Baby complexions are constantly changing and you can help to minimize any distractions.) Try switching your camera to Black and White for a truly classic photo look.
Another top tip we can recommend to capture better baby photos is to use your camera's "portrait" or "soft-focus" feature.
Get Them To Look At Your Camera
"Look up over here!" "Come on, smile for me!" Professional photographers have a crate full of feathers, horns and other photography props that they use to gather the attention of their subjects. Is there a tested toy that you can use? You can help them to "watch the birdie" with
that can help focus their attention back to your camera. A parent's face is the most precious thing to an infant or newborn and you are covering it up with a camera! Bring some life to your camera or phone and you will increase your odds in capturing better baby pictures.
Share Them and Back Them Up
What good will it do if you take better baby pictures and do not share them with loved ones? Social networks and photography sharing sites make it easier to share them than before.
Our wish is that by reading this webpage today that you make sure you have BACKED UP and PRINTED some favorite photos. It is too easy to have everything saved on CD's or memory chips or "on the cloud". Please print some out. Your better baby pictures deserve it.