Birthday Party Themes
Birthday Checklists
Did you narrow down birthday party themes? The big day is rapidly approaching.....
Birthday Cake, (Yes, but you cross your fingers that you picked out the right cartoon character and that he or she still wants it prior to candles being blown out.)
Balloons, (Should you spend more money for helium or just blow them up yourself? More work and not as festive though if you have to blow them up.)
Games, (Let's see, what was jr. playing with this week? You are thinking, "I hope I will time it right.")
Decorations, (Lots of birthday party themes... and you are thinking to yourself, "how far do I have to go this year?")
Finally, cameras....Who has one and who can I trust to grab the traditional "blow out the candle type shots?" Maybe you can track down all the adults taking photos later and find a way to pick out some good shots. (Yeah, right.)
Make Cameras The Theme Of Your Party
Have A Happy Birdie Party!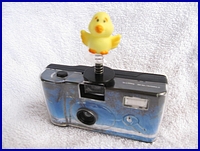 And the cake decoration can be more simple (and safe), you can skip the balloons, you now have at least one "game" or entertainment choice and you can go lighter on the decorations.
Use your favorite search engine or Google "cheap disposable cameras" and you will be surprised how inexpensive they can be. Imagine the shots you will get from letting your child and his or her friends take photos from their vantage point! It truly is exciting to watch and will usually keep them busy with just a bit of direction and encouragement. Consider whether to collect them all toward the end so you can control the photo development or send the cameras home as a party favor if you know they will get developed and you think you will have enough from your child or their siblings.
Disposables are fun and less restrictive but, if you have budget considerations, do some advance work. How many guests have access to a camera? Some really fun digital child cameras are out there. If you think it will become too competitive because of camera choices and might cause some feelings to get hurt, let them share and take turns with a camera that you provide and are able to watch closely.



When the interest starts to fall off, Stick a Smile For Me Toys Birdie™ on top of each camera at the birthday party and you'll inject more fun, and have some lasting memories captured in photos.
Get the attendees' "parental unit's" emails (if applicable) or mail copies of the photos out afterward with a thank you note for coming to the party and you'll be the talk of the block! As the Kodak company has been currently promoting, it is better when you share the photos.
If the children are older and the personality mix is right, give them a list of objects to take photos of and let them get creative. In any case, have them turn the cameras on the adults in the room since many are usually behind the camera.
Remember when opening gifts, do not over do it. Take a photo or two the second you hear paper rip (if you wait to see the reaction, it will be too late.) Then put the camera down! When a child hears "wait, oh isn't that cute, hold that up again" over and over, in the middle of opening gifts, you can turn a child off to photos and not even know why. (Or actually, you just have learned why.)
Whichever birthday party theme you choose, add cameras to the mix. Kill two birds with one stone ("birdie" wishes we would pick a better phrase, by the way), because cameras double as entertainment and will also help you save some great moments in your child's life! The sooner you make it fun to smile for the camera, the easier the learning curve will be for your child and their friends. Start by having them "watch the birdie," the saying has been around photography for literally a hundred years and they will easily pick up on it.