Take SnapShotz To Parties
The Last Great Board Game
When you take SnapShotz to a birthday party, reunion or game night you have the perfect excuse to take some great photos together.   Using any digital camera, tablet or smart phone and some of your favorite Photo Booth type Props, the game provides a fun and exciting atmosphere for taking photos.
Designed to bring together everyone from a "selfie addicted" tween to any "photo allergic" grandparents and all personalities inbetween.  Players get drawn into taking some silly and fun portrait poses and sometimes get slipped in some serious and classic poses when they least expect it.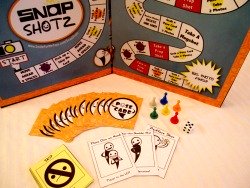 Put Taking Photos on "Auto-pilot"
No need to think or read directions.   Simply put the game out, place the "PoseCards" on the board, get the props handy and away you go!  Your best photo might come from the next turn!
The game of SnapShotz lets kids do what they do best, dress up, act silly and get relaxed for some great photos.   Everyone gets engaged and motivated by how the game is laid out.  You even have some "skip me" chances to help warm up any camera shyness.
No pressure to come up with an answer to a stale trivia question!
No drawing a blank when asked to perform in a Charade type game!
No timers or judging, just a perfect excuse to take photos together.
Plays in 15 minutes (depending on the number of players and personalities) but may hook you for hours.  The board is the perfect playing field for new iPhones, tablets and photo apps.  A simple board based on classics such as Candyland, Sorry and Chutes & Ladders yet has unlimited replay ability when you start to add different Prop themes, draw different PoseCard poses and play around with new phone features.
Perfect for a standard, digital point and shoot camera too!  Pull it out for the game and put it to good use a few more times!
Where Will You Take SnapShotz?
Dig up some props like hats, glasses, scarves and photo booth type mustaches from your attic, closets and party and costume stores.  
Remember the good times you had while playing board games with family or friends while growing up?  Wouldn't you just love to have some photos from those moments of laughter with the people you cared about most?
Someone once noted that "sometimes the people we are closest to are the ones we often don't take meaningful photos enough with."
Moms do not have to worry about bugging kids with her camera.  Let the game of SnapShotz do the "heavy lifting" and get some shots your family will cherish for years later.
Learn More on the "SnapShotz Game" Button
Visit us at SnapShotz.Us using the link below.
Have a great time and make it fun to smile for the camera!